Having your website run on the WordPress platform is one of the greatest decisions you'll make as a business owner.  WordPress has become the most popular website platform and CMS (Content Mangement System) in the past few years and it really allows you to do pretty much anything you want, whereas websites like WIX and Squarespace are very limited with what can be done. It also comes with thousands of free plugins available in the WordPress plugin directory.
Historically, WordPress used to be more complicated and really meant for experienced web designers to create and/or customize themes to give their clients a unique website design. But over the past few years, a lot of improvements have been made in the website building technology, and it's now become extremely simple for just about anyone to create a really powerful, beautifully designed website, WITHOUT needing to know any coding.
As a WordPress website designer and developer for 10+ years, I know how important it is for business owners to be able to make changes to their website, whenever they need to.  And, I know the best free and paid plugins out there that will allow you to update your website whenever you need to. I use each of these plugins every time I create a beautiful, powerful website for a new client. Also, these plugins all come installed and pre-configured in the Do-It-Yourself WordPress Website Package or we walk you through how to set them all up in the DIY WordPress Website Course. So, without further ado, I give you 18 Must-Have Plugins for the Ultimate WordPress Website in 2019.
What I take into consideration when choosing the "best" plugins for my WordPress websites:
Trust: The plugin has a good track record and rating on WordPress.
Support: The plugin developer offers ongoing support for their plugin.
Improvements: The plugin developers deliver regular updates to improve compatibility with websites.
Cost: All of these plugins are free except for the ones from ElegantThemes.com (Bloom, Monarch, Divi Builder, and Divi Theme). With thousands of different plugins out there, you can generally find great free plugins that will accomplish what you are looking for. But generally speaking, if you want to good website, you should purchase a premium theme because they usually provide ongoing support and updates so your website stays up-to-date. I always choose the Divi Theme from Elegant Themes for 99% of all of my websites because it really is the best theme out there.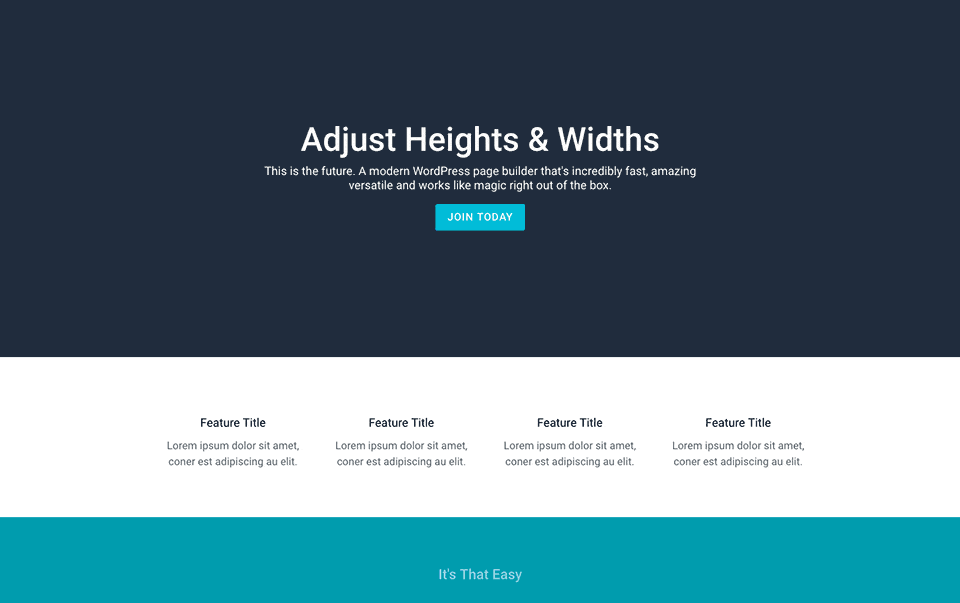 In my opinion, without a doubt, the best WordPress page builder is the Divi Builder created by Elegant Themes. It's super powerful drag-n-drop user interface and visual builder allows you to visually create dynamic web pages. When I'm building websites,  99% of the time, I'm actually using the
Divi WordPress theme
because it comes with the Divi page builder already built into the theme, plus you get many more customization options with the theme.
Price: Included with Elegant Themes Yearly or Lifetime Membership.
One of the most popular anti-spam plugins is Akismet, created by the people that created  WordPress. Spammers can take the fun out of blogging by polluting the comments on your WordPress site. Akismet blocks 99.9% of spam from reaching your blog. Turn Akismet on and it constantly learns and updates itself to automatically protect your site.
Price: Free and paid options available.
Cloudflare isn't actually a plugin, it's more of a service that helps protect your website from dangerous visitors, and speeds up your website too with browser cache and minify, saving a copy of your website on their CDN (Content Delivery Network), plus you can enable use of their SSL certificate so your website URL has that fancy little green lock in front of it.  All of that for FREE, but with a paid account,  there's even more advanced features to enhance your website.
Price: Free and paid options available.

This plugin is a super advanced, fully-featured events management system complete with regular and recurring  events, online registration and bookings, user-submitted events, and integration with BuddyPress. You get more bang for your buck with this plugin than with other event plugins, and it works straight "out of the box", but unfortunately it's not very "pretty out  of the box". It's meant to give you the bare bones so you can customize it for your needs, which requires some knowledge of HTML and CSS. But you don't need to know coding to install and set up an event listing or calendar on your website.
Price: Free and paid options available.
Social Media is the lifeblood that keeps the internet glowing, and Social Sharing lets you harness that activity and use it as a positive force for your business. Monarch is a great plugin that gives you all the various ways to display share links, and display how many followers you have on your social media channels.
Price: Included in a Yearly or Lifetime membership with Elegant  Themes
Well-designed opt-in forms that look like they belong specifically to your website are key to creating trust. Blooms comes with a ton of different design settings, allowing you to adjust just about every aspect of your opt-in form.
Price: Included in a Yearly or Lifetime membership with Elegant  Themes
7. Swift Performance Lite
Swift Performance will increase the loading speed of any WordPress website and provides an intelligent, modern caching system. You can even cache AJAX request, dynamic pages, and you can add exceptions (URL, page or content based rules).
The Sucuri Security WordPress plugin is free to all WordPress users. It is a security suite meant to complement your existing security posture. It offers its users a set of security features for their website, each designed to have a positive effect on their security posture:
Security Activity Auditing
File Integrity Monitoring
Remote Malware Scanning
Blacklist Monitoring
Effective Security Hardening
Post-Hack Security Actions
Security Notifications
Website Firewall (premium)
Price: Free and paid options available.

Shortcodes Ultimate is a comprehensive collection of various visual and functional elements, which you can use in the post editor, text widgets or even in template files. Using Shortcodes Ultimate you can easily create tabs, buttons, boxes, sliders and carousels, responsive videos and much, much more.
Price: Free and paid add-ons available.

UpdraftPlus simplifies backups and restoration. It is the world's highest ranking and most popular scheduled backup plugin, with over a million currently-active installs. Backup your files and database backups into the cloud and restore with a single click!
Backup into the cloud directly to Dropbox, Google Drive, Amazon S3 (or compatible), Rackspace Cloud, DreamObjects, FTP, Openstack Swift, Updraft Vault and email. The paid version also backs up to Microsoft OneDrive, Microsoft Azure, Google Cloud Storage, Backblaze B2, SFTP, SCP, and WebDAV.
Price: Free and paid options available.
WooCommerce is a free eCommerce plugin that allows you to sell anything, beautifully. Built to integrate seamlessly with WordPress, WooCommerce is the world's favorite eCommerce solution that gives both store owners and developers complete control.
With endless flexibility and access to hundreds of free and premium WordPress extensions, WooCommerce now powers 30% of all online stores — more than any other platform.
With WooCommerce, you can sell both physical and digital goods in all shapes and sizes, offer product variations, multiple configurations, and instant downloads to shoppers, and even sell affiliate goods from online marketplaces.
With premium extensions, you can offer bookings, memberships, and recurring subscriptions. Perhaps you'd like to sell monthly subscriptions for physical goods, or offer your members a discount on digital downloads? It's all possible.
Price: Free, with free and paid add-ons available.
Resize, optimize and compress all of your images with the incredibly powerful and 100% free WordPress image smusher, brought to you by the superteam at WPMU DEV!
Smush has been benchmarked and tested number one for speed and quality and is the award-winning, proven crowd favorite image optimization plugin for WordPress.
Price: Free, with paid add-ons available.
WordPress out of the box is already technically quite a good platform for SEO, but that doesn't mean you can't improve it further!
This plugin is written from the ground up by Joost de Valk and his team at Yoast to improve your site's SEO on all needed aspects. While this Yoast SEO plugin goes the extra mile to take care of all the technical optimization, it first and foremost helps you write better content.
Yoast SEO forces you to choose a focus keyword when you're writing your articles, and then makes sure you use that focus keyword everywhere.
Price: Free, with paid add-ons available.
Are you looking for modern, robust, and sophisticated social network software? BuddyPress is a suite of components that are common to a typical social network and allows for great add-on features through WordPress's extensive plugin system.
BuddyPress is focused on ease of integration, ease of use, and extensibility. It is deliberately powerful yet unbelievably simple social network software, built by contributors to WordPress.
Enable registered members to create profiles, have private conversations, make connections, create & interact with members in groups, and much more. Truly a social network in a box, BuddyPress helps you more easily build a home for your company, school, sports team, or other niche community.
It does work straight out of the box, but it is also pretty bare-bones so if you know CSS, you'll probably end up doing a  lot of customizations to make it look better. I would recommend purchasing a premium BuddyPress theme like BuddyBoss, as it will save you a lot of time with designing. Also, I would recommend a virtual private server for this set up,  as a social network will undoubtedly  take  a lot of server resources and would not perform well on a  typical shared server environment.
Price: Free, with free and paid add-ons available.
This plugin is the best plugin to handle free or paid subscriptions and membership sites.  Paid Memberships Pro is designed for premium content sites, clubs/associations, subscription products, newsletters and more! The plugin adds a new revenue source to your site and is flexible enough to fit the needs of almost all online and offline businesses.
Price: Free, with free and paid add-ons available.
Toolset Types lets you add custom post types, custom fields and custom taxonomies to the WordPress admin. A convenient dashboard lets you control everything from one place. This is a great plugin to use when you need to create a custom post type (practitioners, teachers, listings, etc.).
Price: Free, with paid add-ons available.
Sometimes, the default WordPress mail function doesn't work properly and  emails  don't always get sent from the WordPress installation.  Mailjet basically replaces WordPress's default wp_mail() function by using either an SMTP or API integration with Mailjet to send outgoing email from your WordPress installation.  This plugin is a must-have if you are using the Divi Theme.
Price: Free and paid options available.
One of the best resources for getting beautiful, high-quality images for your website is from Unsplash.com.  Unsplash is a community of photographers who freely share their work and make their photos available to use for anything. I absolutely love using these images for my websites.
With this plugin, you can instantly upload photos from Unsplash to your website without leaving WordPress! It will also do the resizing for you, so you don't have to.
That's the list! Of course, there are some other really amazing plugins out there. But these are the best (in my opinion), and the default plugins I install on (mostly) all of my clients' websites.
All of these plugins are included in the
Do-It-Yourself
WEBSITE PACKAGE
Disclosure: Some of the links in this post are 'affiliate links.' This means if you click on the link and purchase the item, I will receive an affiliate commission.
Other Notable Plugins
I would also like to list a few other plugins that I use pretty often when I need just some extra customization.
Shortcodes Anywhere & Everywhere – This plugin allows you to put shortcodes in Titles, Excerpts, Widgets, Menus, and pretty much everywhere else.
Nav Menu Roles –  This plugin allows you to show or hide navigation menu items based on the user's role, or whether they are logged in or not.
Login or Logout Menu Item – Get Login and Logout Links to put in your menu.
Theme My Login – Customize your login experience and design your own login pages using Theme My Login. This plugin themes the WordPress login, registration and forgot password pages according to your current theme. It creates a page to use in place of wp-login.php, using a page template from your theme. Also includes a widget for sidebar login.
Widget Options – Widget Options adds elegant and feature-packed tabbed options below each widget to completely manage and control each widgets visibility and appearance. With Widget Options Plugin, you can easily assign pages visibility and restrict each widget

on different pages, posts, custom post types, categories, tags and custom taxonomies.  

Display fewer

widgets on your mobile devices for easier website navigation without affecting your desktop and tablet versions. Maximizing this feature you can show different sidebar widget contents for each

device

for better user content targeting. And so many more customizations for your widgets.
Did I miss any? Let me know in the comments!